Jr.: Jr. is a Draft mix, the perfect steed for any knight in shining armor. Not only strong, confident and independent, Jr. is most of all intelligent. He is the leader of our herd and loves to be in the front of our string. A fantastic horse to ride out on the trails, Jr. will always get you where you want to go.
Huckleberry: A true Mustang. We rescued him from the BLM holding facilities two months after he was brought in from the wild. Huckleberry loves attention, but to us he seems more like a labrador.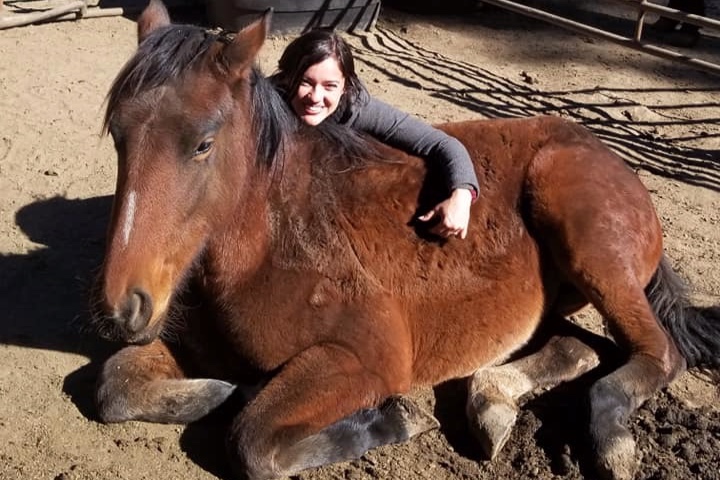 Sweetie. We saw an ad on Craigslist, a man selling the wild horses that lived on his property. We decided to help him because the horses deserved better than living in his junkyard. He told us there were 10 horses in total but he hadn't seen one of the babies for a while and assumed the poor animal was dead. We threw on our muck boots, stormed through the debris and found this poor baby trapped under some junk. The owner said we could have her. He didn't think she'd make it through the night but she did. We took care of her, cleaned her up and made sure she ate well. Now she is one of the best horses in our herd!
Mocha:Mocha is Pandora's son. He's very similar to his mother with the same big, expressive personality. He loves to be out on the trails as often as possible.
Maggie May:Maggie is a full sister to Pandora, Maggie is gentle and sweet. She is the gentlest horse at the stables. She cares a lot about her riders and loves children.
Pandora: Pandora is a loving, athletic Rocky Mountain horse. She's the mother of one of our other Rocky Mountains, Mocha. Her caring attitude makes her the perfect horse for a beginner. She's invaluable on longer trail rides and pack trips.
Dakota: Knowledgable and patient, Dakota has something to teach riders of all levels. He is our lesson horse and Kalea's personal show horse in both Reined Cow Horse and Cutting events. He is a gelding and a valuable member to our team.
Willow: Raised and trained by Kalea, Willow is a very talented horse. She is calm and has never let us down. Willow is full of love and willingness to please. She will still need some time to mature into a "bomb-proof" horse. Until then, she will work as a wrangler horse.
Rosabelle, also known as Rose: Shy, soft and kind to the core, Rose can put any rider in a calm, relaxed state of mind. She is a Kiger Mustang, a breed known for outstanding beauty and grace. Rose is very sweet and loves love.
Ollie is a gentle giant. He does exactly what is asked of him every time! He needs a rider who is confident and experienced. Every thing you do on Ollie means something to him and he will listen to your commands whether you meant to tell him it or not. He is a ranch favorite both on trails and higher level lessons!
Oreo Cookie: She is a wonderful horse for those first time riders! she takes her time and enjoys the scenery. She prefers to be were the food is but mostly prefers the food to be in her belly! she loves to be groomed and pet.
Quincy is a sweet boy, very sensitive and needs his riders to be soft and loving. he is a talented horse with a great deal of training! an amazing horse for a confident yet soft handed rider. like all of our horses, he loves to be groomed.